Types of Pavers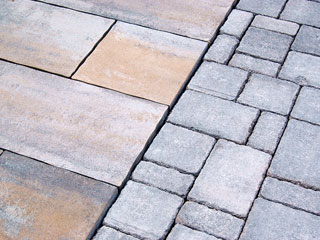 When homeowners are getting the outdoor spaces of their property designed, they want to make sure that any installation they opt for should be low maintenance, strong and durable. With this in view, pavers become an excellent option. Design Interlock Inc provides a wide variety of specialty stone and hardscape services to customers in and around Mill Valley, San Rafael, San Francisco and Greenbrae. They also cater to customers across Richmond, Berkeley, Oakland, Alameda, Daly City as well as Novato. The different types of pavers they can install are:


Concrete Pavers
Some people wonder whether their garden and yard will look unique, since concrete pavers are used in many settings. The fact is that there is wide variety of pavers to choose from and you can choose from pavers in interlocking designs. They are also available in different colors, shapes and sizes and this provides you the design flexibility you need to design outdoor spaces that look distinctive and unique.


Stone Pavers
Natural stone has an everlasting appeal and pavers made of these materials help create a stunning look on your property. You can choose from slate, sandstone, flagstone as well as bluestone and travertine etc. All these stones have a high aesthetic appeal, are low-maintenance and easy to repair as well. As you can see, there are a number of benefits to using flagstone in various garden installations.


Brick Pavers
Brick is another material used in various landscape projects. It's stunning in appearance and now you can choose from brick pavers in different colors, shapes, sizes and textures. Brick is an excellent material to use in outdoor applications and you can add to its longevity by sanding the joints and sealing the surface. This makes the surface oil stain resistant and helps it repel dust and debris as well.


Flagstone Pavers
Flagstone is one of the most popular materials used in landscape projects. It has an earthy appearance and matches the look of formal and casual styled gardens and yards. It is available in various colors and shades and you can use a combination to create a very stunning look on your property. It's perfect for use in pool areas and you can create a very unique look by growing grass between the joints or get a neat-jointed installation.


Pool Pavers
Pool spaces should be planned with care and attention to detail. These areas see a lot of water and moisture and the materials you use should be resilient enough to withstand the water and regular wear and tear. While you can use flagstone or bluestone paving for this area, it's a good idea to use permeable pavers here. This ensures the water filters through into the ground below and keeps the surface moisture-free; it deters the growth of moss and mildew and reduces the chances of slippage.

Creating outdoor spaces that will be attractive and long-lasting takes skill and experience and this is why you should take extra care while choosing a paving contractor for the job. Companies like Design Interlock Inc. can provide the best, customized solutions at paver cost that fits perfectly into your budget.

"MORE ARTICLES"
Patio Pavers
Paver Driveways
Paver Installations
Paver Repairs
Pavers
WE PROVIDE SERVICES TO THE FOLLOWING CITIES AND TOWNS IN THE SAN FRANCISCO BAY AREA, CA: ALL BAY AREA COUNTIES