Paver Repairs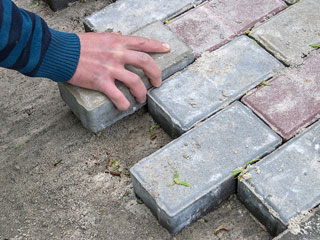 The outdoor spaces of your property help add to the curb appeal and value of your home. However these areas are exposed to the elements and they get worn out and start looking old over time. It's true that unsightly and poorly-maintained paving stones mar the appearance of your property; however, damaged or displaced pavers or pavers covered with moss can also cause slip and fall accidents. If you find that the paved areas have deteriorated, you should opt for paver repairs.

Design Interlock Inc provides a wide variety of specialty stone and hardscape services to customers in and around Mill Valley, San Rafael, San Francisco and Greenbrae. They also cater to customers across Richmond, Berkeley, Oakland, Alameda, Daly City as well as Novato. They offer specialized paver repair and restoration services:


Sealing Pavers
While the surfaces of paving stones are very resilient and are able to withstand climatic changes, it's a good idea to get these installations sealed. The specialized coating makes the surface oil stain-resistant and it protects the paving from dust and debris too. This is quite a specialized job and it's important that you hire experienced and skilled personnel for the job. This sealing process has to be carried out every 2 years and you will find that maintaining the installation becomes much easier. In most instances, the joints will also be sanded before the surfaces are sealed.


Paving Sand
Once the pavers have been installed, the sand is expertly filled into their joints; this helps keep the individual units in place and adds to the overall resilience and integrity of the installation. However, this sand tends to get eroded over time and that causes shifting/loosening of the blocks. As part of the repair services, the personnel will res-and the installation and ensure that all the gaps are filled properly. This treatment makes the paver installation more solid and sturdy and it adds to the longevity of the installation. When the sanding is done well and on a regular basis, you will find that the units don't come loose or get displaced.


Paver Restoration
Restoration of paver stones may be required if the installation has deteriorated and has started looking old and worn. It's important to ensure that there are a no loose units or any broken units on your driveways, pathways, poolscapes etc. Any loose surfaces can result in slipping or tripping and accidents and can be disastrous. The paved areas can be restored to their former condition; the personnel will use high quality cleaning agents and tools and ensure that these spaces look as good as the day they were installed. The joints will be meticulously sanded and sealed and this increases the lifespan of the paved spaces.

Creating outdoor spaces that will be attractive and long-lasting takes skill and experience and this is why you should take extra care while choosing a paving contractor for the job. Companies like Design Interlock Inc. can provide the best, customized solutions at a cost that fits perfectly into your budget.

"MORE ARTICLES"
Patio Pavers
Paver Driveways
Paver Installations
Pavers
Types of Pavers
WE PROVIDE SERVICES TO THE FOLLOWING CITIES AND TOWNS IN THE SAN FRANCISCO BAY AREA, CA: ALL BAY AREA COUNTIES