Paver Installation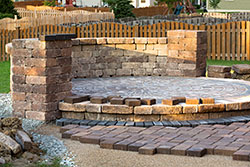 Many people choose to get pavers installed on their property nowadays. It's one material that look stunning and unique; that's because you can choose from paving made from stone, concrete or brick, and each of these materials are available in a range of colors, textures, styles and shapes. This gives landscapers the design flexibility to create spaces that look stunning and distinctly unique.

Design Interlock Inc provides a wide variety of specialty stone and hardscape services to customers in and around Mill Valley, San Rafael, San Francisco and Greenbrae. They also cater to customers across Richmond, Berkeley, Oakland, Alameda, Daly City as well as Novato. The company can handle installation of all type of pavers.


Installing Pavers
Installation of pavers is quite a specialized job and it's important that you hire experienced and skilled professionals for the job. Pavers are extremely resilient and durable; however it's important that the individual units be installed well, in order that the surface lasts for a number of years. The pavers are fitted on compacted sand and the periphery is edged properly to ensure that these units don't shift and come loose.


How to Install Pavers
While mortar may be used in some paving installations, these units are largely installed on compacted sand. This job requires skills and the edges of all the stones should be matched well if the installation has to last for a long time. Some people wonder whether they can turn this into a DIY project, but the fact is that you need experience to complete this job in an expert manner.


Installing Patio Pavers
The installation of patio paving is very similar to driveway paver installation. In the former you have to ensure that the paving you install should complement the look and feel of the indoor and outdoor spaces on your property. If you are planning to get an outdoor kitchen with a fireplace or fire pit installed on your property, ensure that the pavers you choose will match the styling of these features as well.


Installing Brick Pavers
Brick pavers can be installed on pathways, walkways and driveways etc. Many people like to use brick paving as this creates a stunning effect in various types of settings. Brick has a very earthy and natural look and is available in a variety of shades and colors apart from the standard brick red. The joints can be sanded and surface sealing ensures it becomes stain and dust-resistant.


Paver Installers
When you are planning to get paving installed anywhere on your property, you should choose the installers with care. Look for a service provider with experience and a good reputation and ensure that they are licensed and insured. The company should also provide guarantees for its work and be able to provide customized solutions at a reasonable cost.

Creating outdoor spaces that will be attractive and long-lasting takes skill and experience and this is why you should take extra care while choosing a paving contractor for the job. Companies like Design Interlock Inc. can provide the best, customized solutions at paver cost that fits perfectly into your budget.

"MORE ARTICLES"

Patio Pavers
Paver Driveways
Paver Repairs
Pavers
Types of Pavers
WE PROVIDE SERVICES TO THE FOLLOWING CITIES AND TOWNS IN THE SAN FRANCISCO BAY AREA, CA: ALL BAY AREA COUNTIES